Your giving will help continue our efforts to respond to disasters and calamities, reach out to the immediate needs of families and rebuild communities.
You may give through the following options below:
Give Thru PayPal. Most commonly used international money transfer facility.
Easy to use. Fast & secure transactions. 25 currencies. Millions of users globally.
Or you can scan the QR Code Below:
Give thru GCash, a Philippine mobile wallet, mobile payments and e-banking service.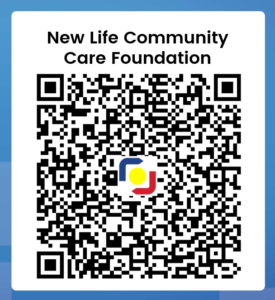 NEW LIFE COMMUNITY CARE FOUNDATION INT'L. INC.
PESO CHECKING ACCOUNT:
Unionbank (Richville Branch)
00-133000543-3
US DOLLAR ACCOUNT:
Unionbank (Richville Branch)
13-133000530-7
Swift Code: ubpphphmm